Access Dental and Dentures is Transforming Lives with the Help of iCare Financial
iCare Financial Newsletter – March 2016
Access Dental and Dentures is a high volume dental practice that offers three convenient Missouri locations, Springfield, Osage Beach and Rolla. Each of the locations not only has full onsite dental labs, but also takes iCare Financial as a form of payment. They have been offering iCare for slightly more than a year and have brought in a combined revenue of $612,042.14 with approximately 501 patients able to receive the treatment they needed.
iCare From the General Manager's Perspective
Kari Hicks is the General Manager and contact for all 3 locations. Kari explained, "A lot of our iCare payments have been for high ticket items that people can't afford like dentures, crowns, bridges and implants. Our patients have taken advantage of it for both small and larger treatment plans."
Kari points out that accepting iCare Financial has been a major boost for the business. People call all the time asking if Access Dental and Dentures accepts payment plans. They used to only be able to offer patients Care Credit, but not all patients qualified so they ended up not being able to treat all prospective patients.
She added, "Since iCare came along, we found a good 80% of people who didn't qualify for Care Credit found iCare Financial was a good fit. We have had a good response almost always."
Navigating the Patient Payment Process
Handling iCare for all three locations has kept Kari very busy. She comments that she often does multiple payment plans per day.
Their acceptance of iCare Financial has generated positive word of mouth in the region. "Just today I had someone call and ask about iCare Financial," said Kari. "I said 'Yes, we actually do.' Usually they ask about payments, not iCare. But today, she asked for it by name."
When a patient is looking to finance a treatment plan, an Access Dental and Dentures team member immediately tells that individual about Care Credit as well as iCare Financial. Some patients state right off the bat that they won't qualify for Financing. When that occurs, the staff skips over mentioning Care credit and goes directly to explaining iCare Financial and how it works. In many cases, when patients call asking about Financing, the team only tells them about iCare Financial.
Changing People's Lives for the Better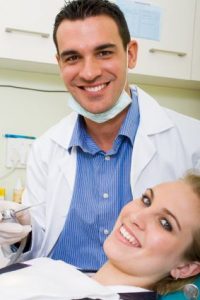 There have been a myriad of instances where the fact that Access Dental and Dentures offers iCare Financial has dramatically improved patients' lives for the better. For example, one patient came in to Access Dental recently saying that her sister's wedding was coming up that very weekend and she really wanted to get dentures.
She had accidentally busted her dentures just the week before this occasion and, as a result, she didn't have any teeth. She wanted to get everything ready to go for her sister's wedding and was really upset because her insurance wouldn't cover the dentures she so desperately needed. Her worst fear was not even being able to smile at her sister's wedding.
Kari explained, "When we told her about iCare Financial and how it worked, she was super happy. She was immediately ready to go. Now she'll have her dentures ready for the wedding!"
In regards to other dental practices and their decision of whether or not to utilize iCare Financial's services for patient payments, Kari added, "If you have concerns about whether it will work or they keep their end of the bargain, they do. I can testify to that. By far, it's one of the best things we have done for our practice."
Don't ever turn another patient away.
Give yourself and your staff the confidence to offer comprehensive and cosmetic treatments while knowing you have a finance program to get the job done.
Get your practice set up today.
Don't Delay Call 1-800-862-7908. Or click here to email us.